Top Reads for Winter
27 June 2022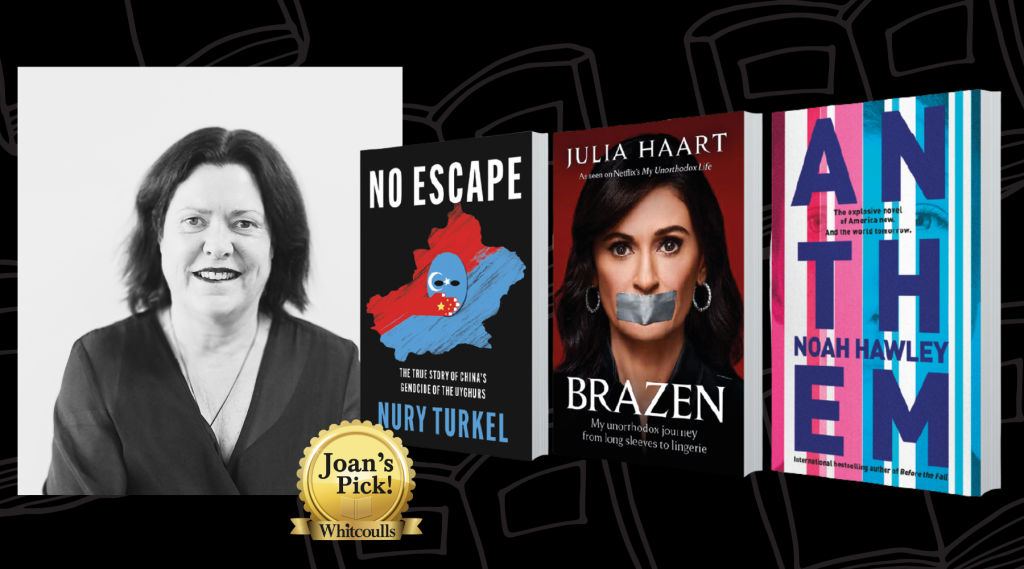 Have your ever walked into a Whitcoulls store, seen the "Joan's Picks" book selection on-shelf and wondered – just who is this Joan and why is she so spot-on with her book recommendations?
Whitcoulls Head Book Buyer, Joan (pictured above), has been buying books all around the world for over 20 years. Joan combines her great passion for reading with a career in bookselling.
Always searching for the best new books to read, Joan has kindly shared with us her top picks for winter (in no particular order of preference) – available now at Whitcoulls.
Whitcoulls is located next door to Kmart at Queenstown Central Shopping Centre, 19 Grant Road Frankton.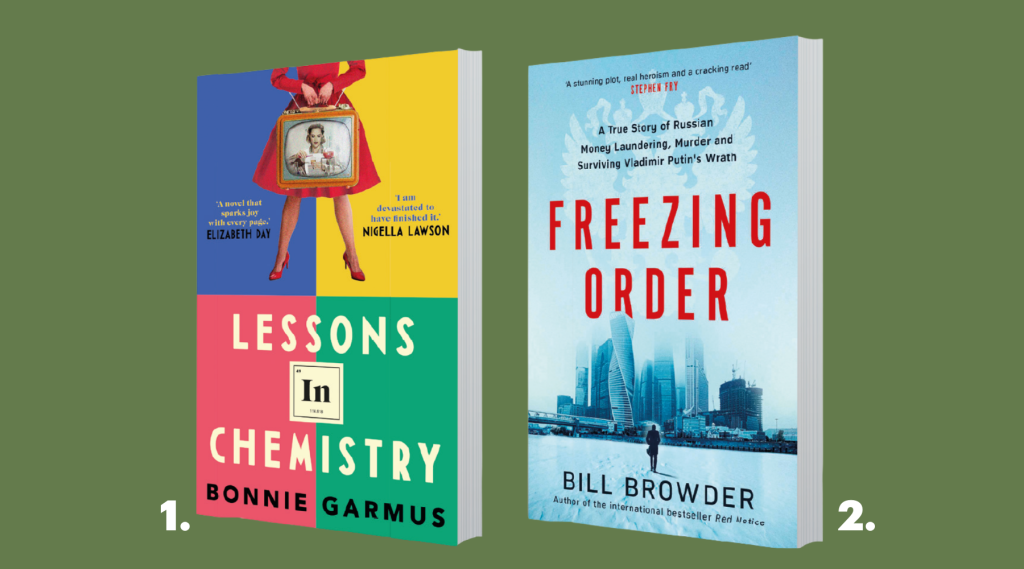 1/ LESSONS IN CHEMISTRY by Bonnie Garmus
Elizabeth Zott is mad about science, with a lowly job at a research institute. An unmarried pregnancy forces her out – back in the 60's, that mattered – and she's invited to host a TV cooking show which becomes an unexpected hit as she educates her audience about the scientific principles behind food preparation. Unconventional, idiosyncratic and forthright, Elizabeth is a one woman force of nature who with her daughter Mad and their dog Six-Thirty will slowly steal your heart.
2/ FREEZING ORDER by Bill Browder
Bill Browder is Putin's Public Enemy Number One. He was responsible for the passing of the Magnitsky Act in the US, named after his young Russian lawyer who was murdered in police custody. Since then he has tirelessly continued to follow the money flowing out of Russia through the hands of Putin and his oligarchs, whilst being stalked, threatened, and risking his freedom every time he crosses a border. Talk about courage! His book is riveting.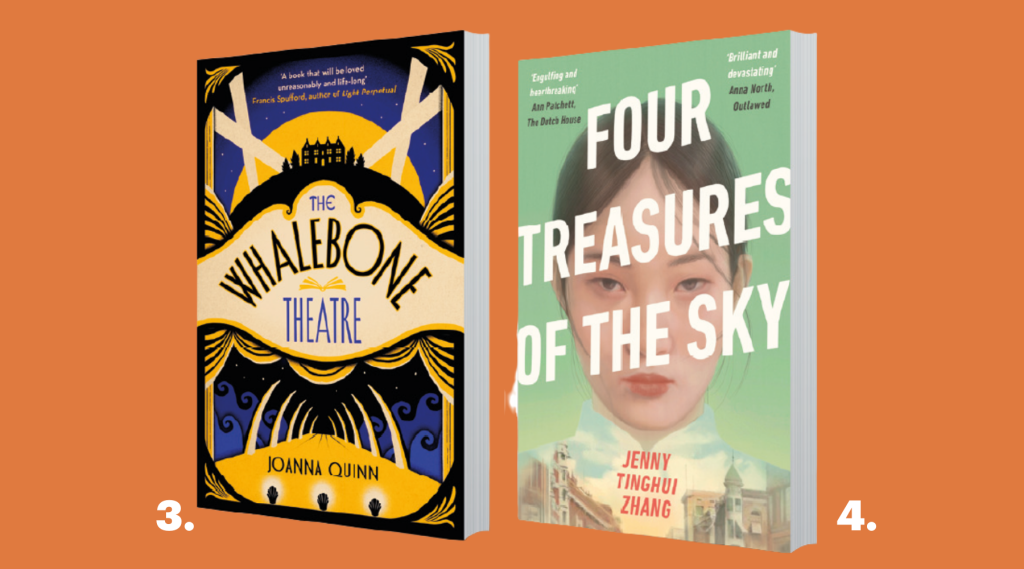 3/ THE WHALEBONE THEATRE by Joanna Quinn
An epic, absorbing novel which follows three free spirited children from an unconventional, dysfunctional family estate in Dorset in the years leading up to and during WW2. It's a multi-layered story about the power of drama, of the bonds between siblings and the disparity of class; war work, espionage and making a life, and the compromises made on the way. I couldn't put it down.
4/ FOUR TREASURES OF THE SKY by Jenny Tinghui Zhang
After her parents disappear Daiyu is kidnapped and taken to America in a bucket of coal – apparently a common method of transporting stolen women from China to the US in the 19th Century – where her life is completely upended and it's safer to pass herself off as a young man. This was at the time of the Chinese Exclusion Act when Chinese people in the States suffered extreme persecution, and her survival becomes a business of constant reinvention.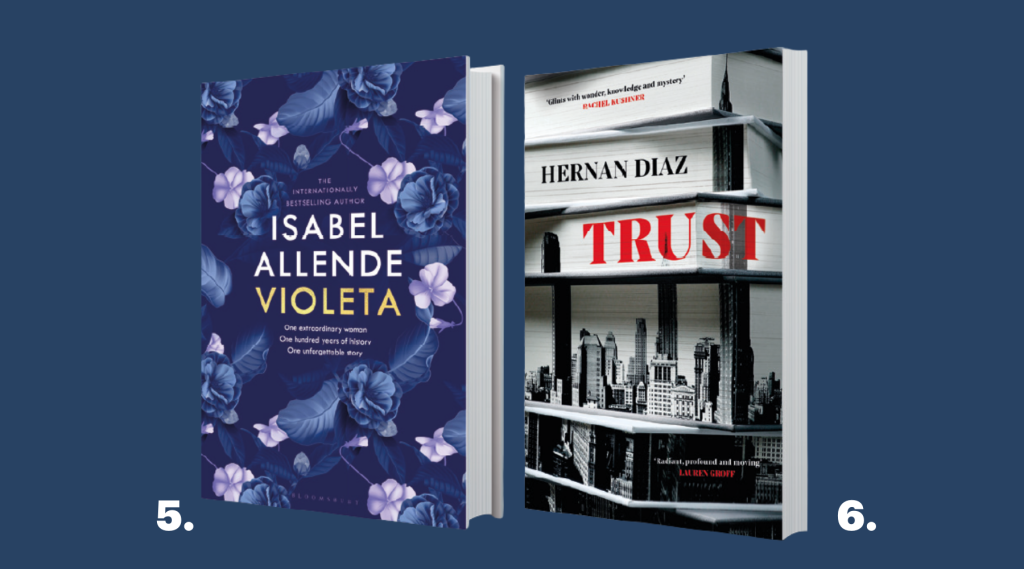 5/ VIOLETA by Isabel Allende
Violeta del Valle recounts her fictional life story – from her birth during the Spanish Flu and privileged childhood, until the Depression when her family lost everything. Then came an unsuitable marriage, a wild affair with a dashing RAF pilot which forever changed the course of her life, and at the age of 100, COVID-19. In between the two pandemics hers is a life filled with joy and sorrow which is rich in the reading.
6/ TRUST by Hernan Diaz
This is superb. Over the course of four interlinked books it tells the story of a hugely successful 1920's financier who believes he's the subject of a recent novel where he claims to have been misrepresented, and hires a young woman to set the record straight who 50 years later realises that all was not as it seemed at the time. Trust is clever, skillful and hugely entertaining.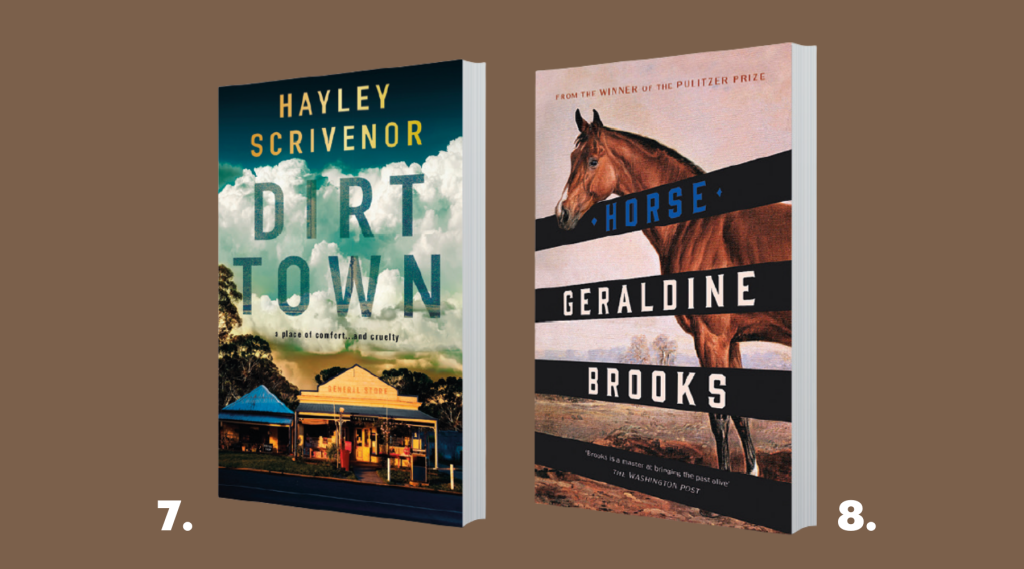 7/ DIRT TOWN by Hayley Scrivenor
In the searing heat and hopelessness of a small town on the wane, one day twelve year-old Esther doesn't come home from school which sparks an all community response, but everyone has something to hide. An accompanying Greek chorus of the town's children gives their perspective on this Dirt Town they call home, and see things others don't. Brilliant storytelling.
8/ HORSE by Geraldine Brooks
A wonderful mix of history and fiction, art and science, based on the true story of the famous 19th century Kentucky racehorse Lexington and the social milieu in which he came to fame amidst slavery, injustice, and an obsession with horses. A painting of him unites a young couple in 2019 – Jess who studies the skeleton to understand the champion's physiology, and an art historian named Theo. The care and reverence in this book is remarkable and I loved it.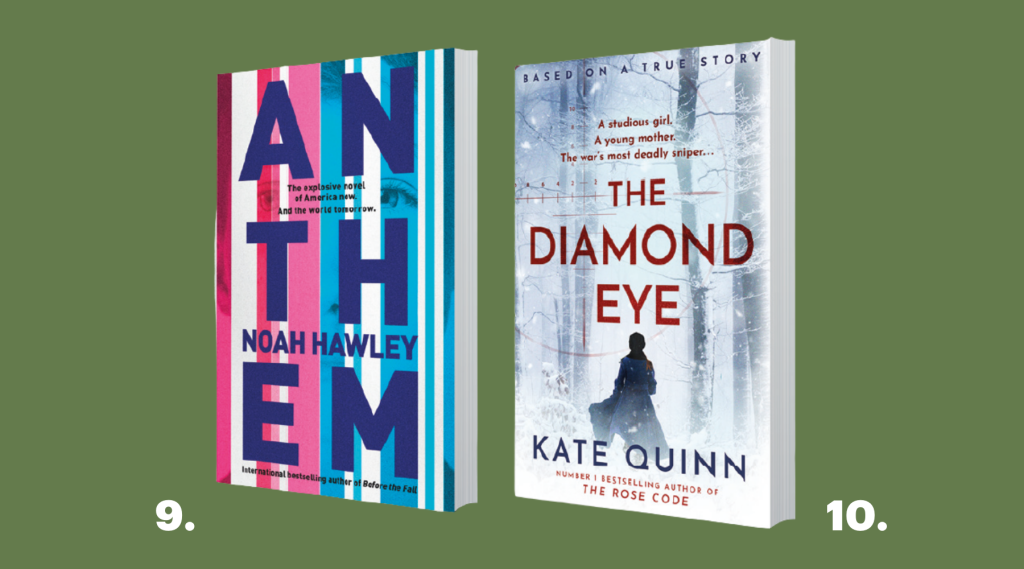 9/ ANTHEM by Noah Hawley
Three young people meet at an anxiety treatment clinic and are persuaded by one of their number, known as The Prophet, to go in search of a new utopia. Hitting the road across America, they're looking for this brave new world – and for a man known as The Wizard. Huge in scope and powerful in its delivery, this truly is an epic for our times.
10/ THE DIAMOND EYE by Kate Quinn
Mila Pavlichenko was a student living in Kiev when WW2 changed everything. She became a lethally accurate sniper, and a national celebrity when her kill tally reached 300 – and was then sent on a charm offensive to America to drum up more support for the Russian cause. There she befriended Eleanor Roosevelt, but even such a powerful connection couldn't protect her from some fearsome adversaries. From the author of The Alice Network, this is terrific.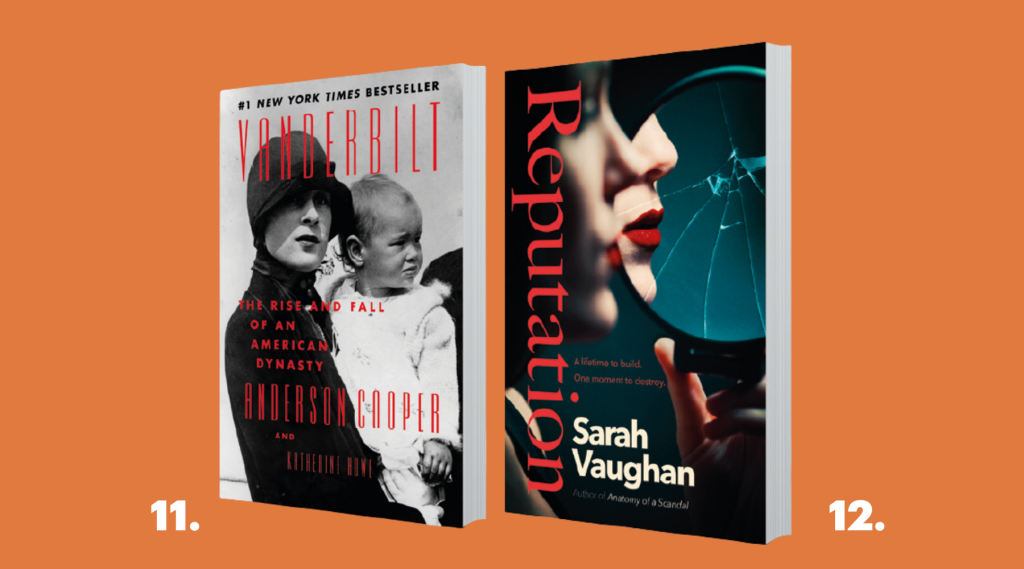 11/ VANDERBILT by Anderson Cooper & Katherine Howe
Anderson Cooper's mother, Gloria, was a Vanderbilt. With his inside knowledge of that fabled family he tells their history, beginning in the 19th Century with an eleven-year-old entrepreneur who went on to build empires in shipping and railroads – becoming the richest man in America. Money flowed through the generations, spectacularly squandered along the way so that all that remains now are the structures they built and some fascinating stories.
12/ REPUTATION by Sarah Vaughan
Emma is a British politician who knows that reputation is everything. Her career comes crashing down when a series of misjudgments culminates in a tabloid journalist being found dead in her flat. She's been a tireless campaigner against online harassment – and now finds herself accused of the very thing she's been trying to prevent. From the author of Anatomy of a Scandal this touches many of the flashpoints of our modern world and is terrific.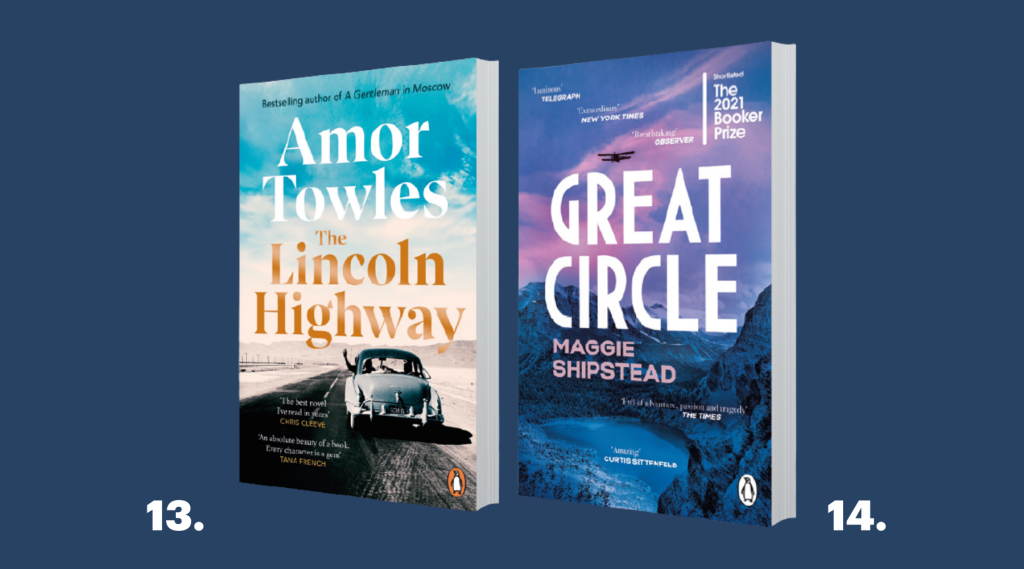 13/ THE LINCOLN HIGHWAY by Amor Towles
Emmett Watson returns home from prison to start a new life with his little brother Billy, following the death of their father and the loss of their Nebraska farm. They reckon without two former prison friends who "borrow" Emmett's car, so the brothers embark on an American road and rail trip to go after them. With Emmett and Billy in pursuit of a wistful dream, this is wonderful.
14/ GREAT CIRCLE by Maggie Shipstead
A wonderful, expansive, epic story about two women: Marian Graves who, in the style of Jean Batten became an obsessive aviator; and Hadley Baxter, a Hollywood actress, who many years later plays the role of Marian in a movie about her life. It's ambitious and engaging, spanning countries and decades with fascinating, plausible characters. Short listed for the Booker Prize, this is a really satisfying read which I didn't want to end.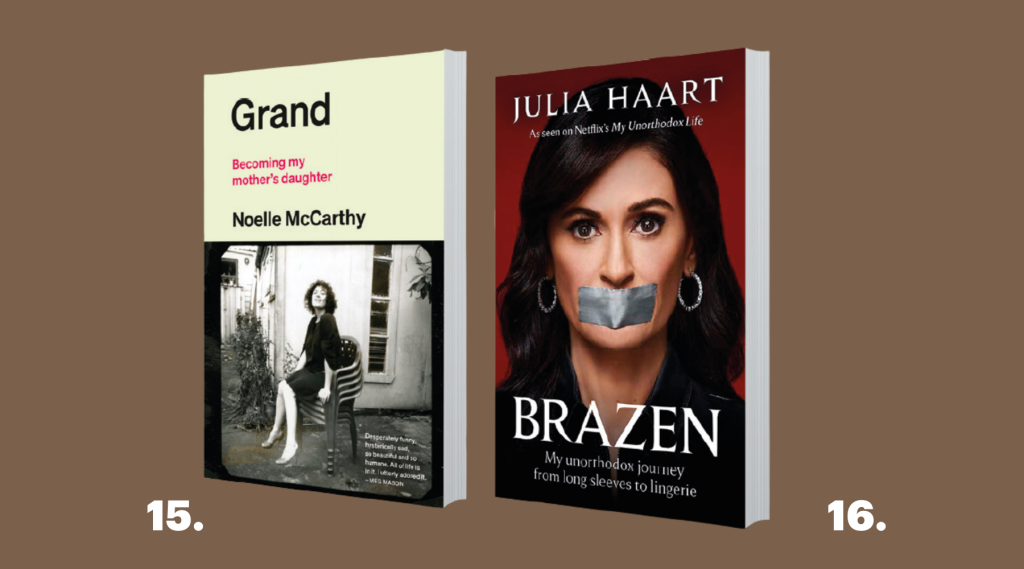 15/ GRAND by Noelle McCarthy
Noelle McCarthy's life began in Ireland, where her relationship with her mother was a bitter, broken thing and she came to New Zealand to get away. Her mother – Mammy – was a lifelong alcoholic for whom nothing was ever good enough, especially her daughter, and this is Noelle's attempt to make peace with their relationship, arriving at a belated understanding of who her mother was, and why.
16/ BRAZEN by Julia Haart
Julia Haart was brought up in the ultra Orthodox Jewish community and her account of her life there is alternately hilarious, heartbreaking and simply unbelievable. What she wore, what she ate, what she thought and who she married were all controlled, until at the age of 42 she finally broke free and now lives a life she hadn't even known existed. It's an exceptional memoir and I loved it.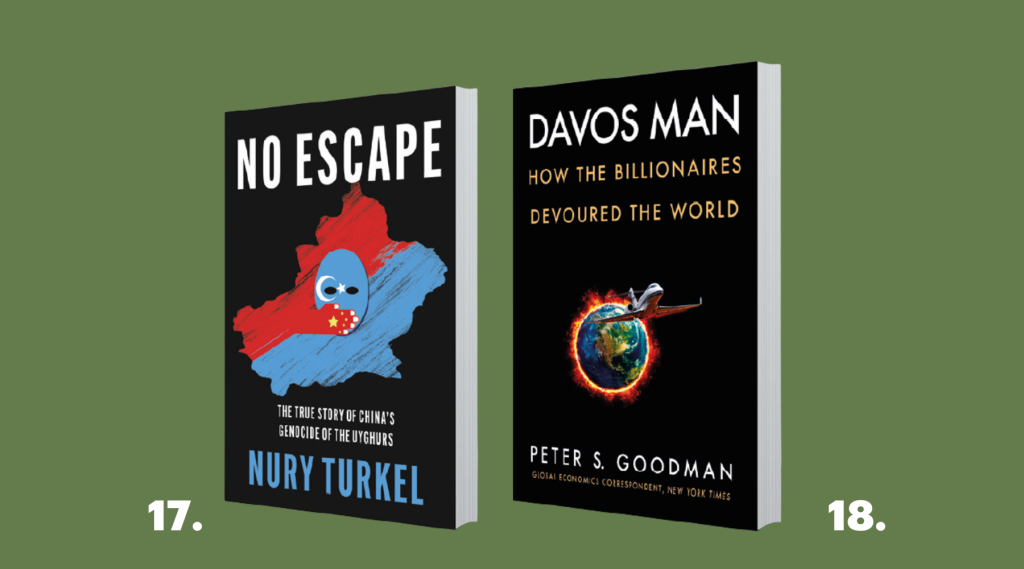 17/ NO ESCAPE by Nury Turkel
As many as three million Uyghurs are believed to be detained in "re-education camps" in Xinjiang province in the People's Republic of China, and for those who live outside them, life is not much better. Utterly gripping, full of incredible detail and first hand experiences this tells the indisputably true story of the most repressive surveillance state the world has ever known, from deeply personal perspectives. It's both chilling, and important.
18/ DAVOS MAN by Peter S. Goodman
Davos Man is a term for the billionaires who gather each year in Davos, Switzerland – ostensibly to find ways to improve the world, but it's really all about protecting their vast wealth and finding ways to further enhance it. Like peeling the layers of an onion, the author exposes the hypocrisy and avarice of these men and the irreparable damage being done to governments and individuals as we all scramble to do more with less, while they make out like bandits.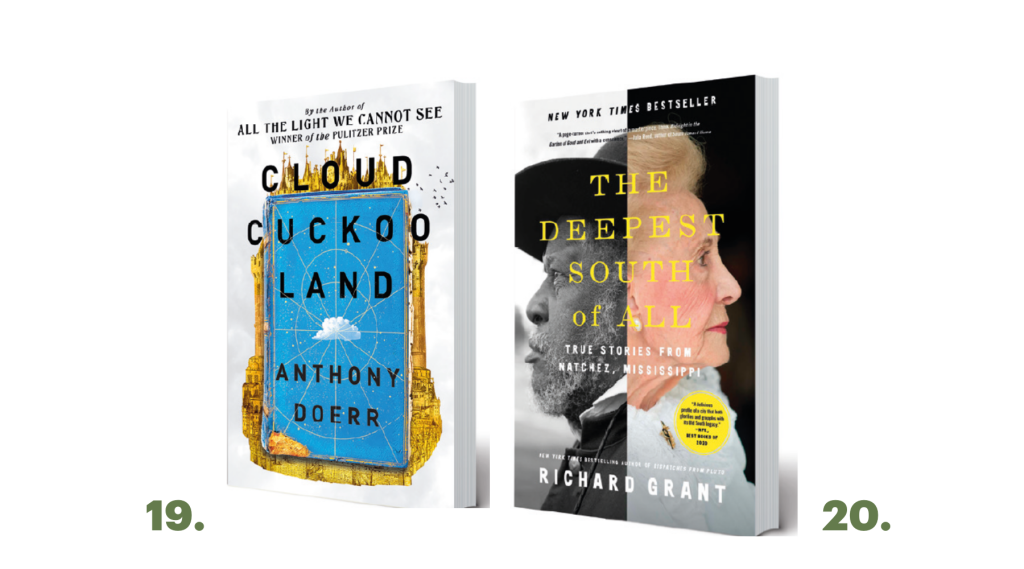 19/ CLOUD CUCKOO LAND by Anthony Doerr
This begins with the English translation of a long-lost book from Ancient Greece and is, in fact, an extended love letter to books and reading. From Constantinople in the 15th Century all the way through to 2146, that book is the one constant which links the timeframes. From the author of All the Light We Cannot See, Anthony Doerr is a genius.
20/ THE DEEPEST SOUTH OF ALL by Richard Grant
Natchez, Mississippi is a town rich with history, none more fascinating than that of a West African prince who was enslaved there in the 19th Century and whose sad biography alone is reason enough to read this book. It's also a town full of characters and contradictions, with a history built on cotton and oppression. Perfect for fans of Midnight in the Garden of Good and Evil.